Punjabi Wedding Photography | Manpreet & Amninder NJ
Candlelight Studio offers the unique experience of preserving memorable moments of Punjabi Wedding Photography with love and passion.
We specialize in Punjabi wedding photography and videography- We photograph and videotape your lavish ceremony-
We are the best photographers who know the Punjabi wedding photography trends and will make your photographs unique. Punjabi weddings are our specialty, and we will capture your Jago, Mehendi, Ring Ceremony, and Engagement photoshoot. Call us today to save 5% on your package for wedding ceremony and reception celebration photography and videography.
Candlelight studio is the best photography and videography studio that can deliver beyond your imaginations. We specialize in capturing every bit of your marriage ceremony. From candid shots that illustrate your candid moments to the tears of Joy, everything we capture on camera.
Our over 20 years of experience puts you at an advantage of clean, clear-cut pictures. The team of Punjabi wedding photographers at CandleLight studio is timely and will patiently wait for every style you want to try out while suggesting beautiful poses to you. Our secret for success is in the way we capture your Punjabi and Sikh wedding rituals.
We know that Sikh marriage ceremonies and Punjabi weddings are glorious events for brides and grooms and their families. The newlyweds perform their rituals for several days. The regional wedding gatherings of relatives and friends add charm to the celebrations. We know the details of Punjabi wedding ceremonies, and we will capture stunning photos of the events.
4 Attractive Photo Packages for Punjabi Wedding Photography
In 2000, Surinder Singh, an exceptional creative photographer who is so passionate and committed to photography, founded the Candlelight studio. Since then, he has become one of the best photographers for Punjabi weddings. Our quick turnaround time for delivery and sophisticated editing styles can stand the test of time.
100 Stunning Photos by Famous Punjabi Wedding Photographers
We believe that wedding creates a divine bond. Thus, our Indian photographers like to catch the divine moments on your special day. We know that you look for the newlywed essence in your photograph. That is what we incorporate into our wedding albums. From Mehendi to Haldi Rasam and Vidaayi, we will be with you till the end of the ceremony.
Aerial Drone photography is the new wedding photography trend for your Baraat, Milni, and Doli/Bidai coverage.
Real-time video streaming sessions allow your dear ones worldwide to view your ceremony directly on the Web!
Multiple photographers is an added option for your wedding photography package. Our Indian photographers and videographers work together to capture photos and videos from different angles.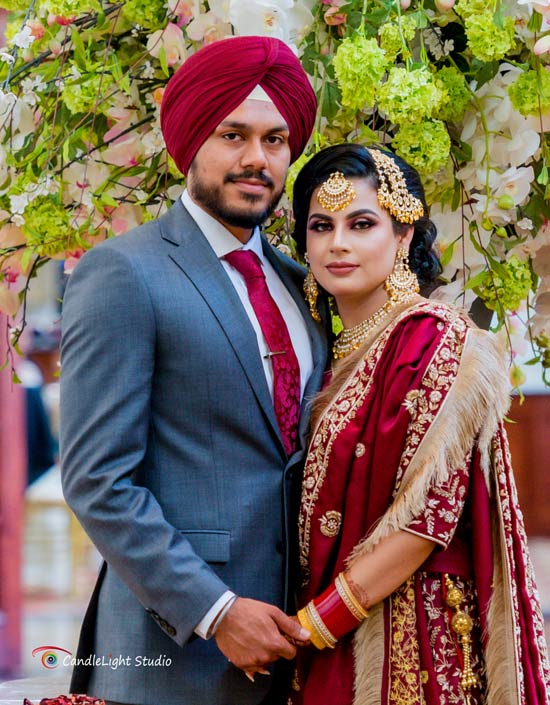 Colorful and Joyous Punjabi Weddings Photos
Best Lavan Phere Video Highlights Reel by Punjabi Wedding Videographer Near Me in NYC and NJ
Best Priced Punjabi Wedding Photography Videography Packages
4 Best Selling Punjabi Wedding Photography Packages
Hollywood-Style Video Editing of Elegant Punjabi Weddings
Pre-wedding Events like Engagement, Ring Ceremony, Chooda Ceremony, Sangeet Night, and Jago Celebration
Bridal Party Photo Session
Group Photos of Family and Friends
Flush Mounted Coffee Table Photo Book
Drone Photography and Cinematic Baraat Video
Live Streaming of Your Events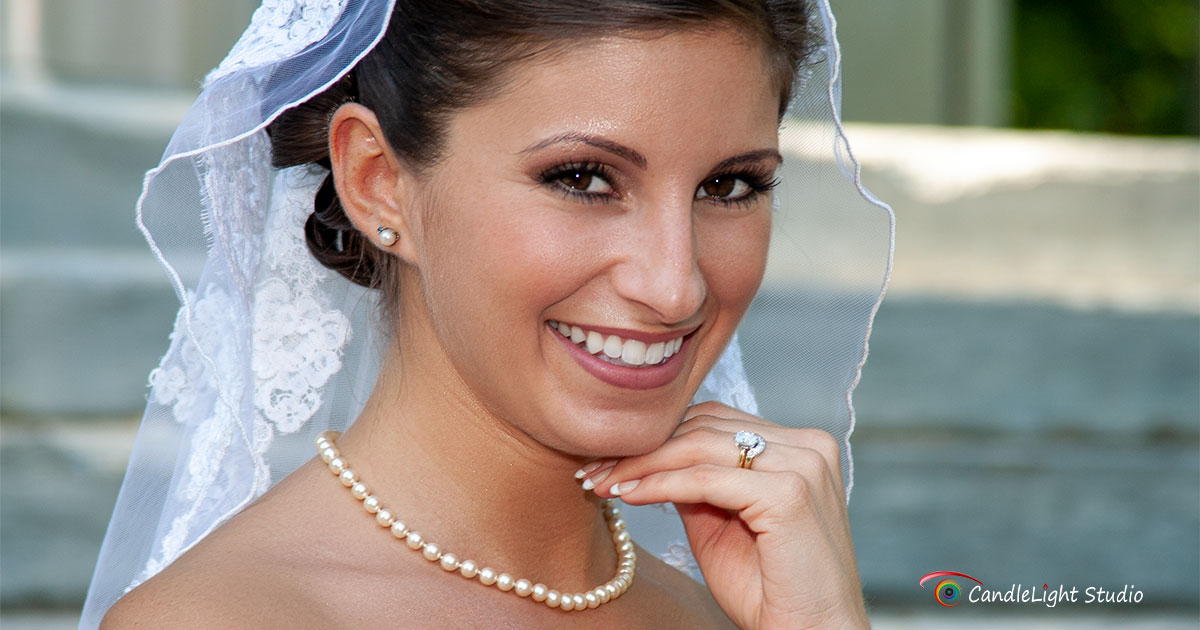 Wedding Photography at Unbeatable Prices by Indian Photographers
Get More for Your Money with Affordable Wedding Photography Packages
Unique Wedding Photo Albums Tailored Just for You
Cinematic Wedding Video Highlight Reels: An Unforgettable Journey
Expertly edited Full-length footage capturing moments of your memorable event.
The edited video features dynamic titles, special effects, and songs harmoniously paired with your event.
Share the Joy with Loved Ones: Live Stream Your Special Moments
Drone Flying Cameras: Elevate Your Wedding Experience
Unleash the Full Potential of Your Memories
Complimentary Online Gallery: An Artistic Showcase
Make Your Wedding Unforgettable with CandleLight Studio
Book Your Unforgettable Wedding Experience Now!
Contact us today to reserve your date and secure the most enchanting wedding photography experience.
Let Indian Photographers be your trusted partner in capturing the magic of your love story.
4 Hours of Digital Photography
All High-Resolution Photos without watermarks, Delivered Online
FREE UPLOAD of selected photos on the Internet
4 hours of High Definition Videography
UnEdited High Definition Video Footage Delivered Online
FREE UPLOAD of selected video clips on the Internet
4 Hours of Digital Photography and High Definition Videography
All High-Resolution Photos without watermarks, Delivered Online
UnEdited High Definition Video Footage Delivered Online
FREE UPLOAD of selected photos on the Internet
4 Hours of Digital Photography and 4K Videography
1 Flush Mount Photo Album – size 12″x36″ (25 Pages/50 Sides) with Plexiglas Acrylic Cover
5~10 Minutes Video Highlights Reel
FULL Length Edited Video (Dynamic Titles, Special Effects, and Matching Songs), Delivered on USB Drive and Online
All High-Resolution Photos without watermarks, Delivered on USB Drive and Online
USB Drives are Playable on Smart TVs, Computers, Laptops, Tablets, etc., with USB input
Free Online Photo Gallery
FREE UPLOAD of selected photos and Video Highlights on the Internet
The Best Packages by Punjabi Wedding Photographer.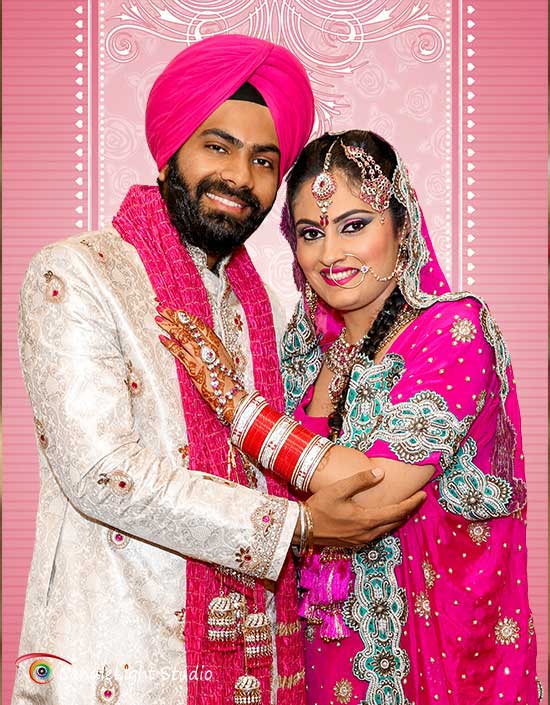 Affordable Punjabi Photographer for the Best Photography
Photography for Sikhs and Punjabis- Find romance in every portrait

We have photographed the Sikh couples who have appreciated our thinking ability and our vision. Our client care, wedding photography style, technique, and finished products have drawn the attention of Sikh brides and grooms.

We like to see our Sikh couples in love. Our photographers make their cameras ready when they kiss, smile, and embrace each other. When they close together with romantic eyes, we click photos for special memories.

In some cases, the special sound and fragrance may trigger their emotions, and thus, we wait for those moments on their wedding day.

We ask our clients to hire more than one photographer to serve both brides and grooms. When the groom is trying to wear the turban perfectly, the bride is busy with her makeup.

We send two photographers and two videographers to both of their dressing rooms. Some clients engage us mostly for Milni and Barat.

Barat is a dancing ceremony, while Milni is an event outside Gurudwara. However, nowadays, Sikh clients like to have pre-wedding photography sessions. We have worked on both indoor and outdoor wedding photography with our skills.

You know that photography is a part of almost every bridal party. However, our Indian wedding photographers in New York take the challenge of making your photographs unique.

Our secret for success is in the way we capture your wedding rituals. The following things are always a part of our Punjabi wedding photography sessions-

– Your ivory bangles for the Chura ritual
– The Sehra Bandi ritual of tying a knot with an embroidered veil
– Your arrival at Gurudawara
– The ceremony of the Lavaan and Milni
– Tear-jerking moments during the official departure of the bride

Thus, we are the best photographers who know the Punjabi wedding photography trends.

We know that the marriage ceremony of every couple is unique. So, our Punjabi wedding photographers strive their best to capture blissful moments on your wedding day.

Hire our team for Punjabi wedding photography. Find fascinating shots captured by our camera.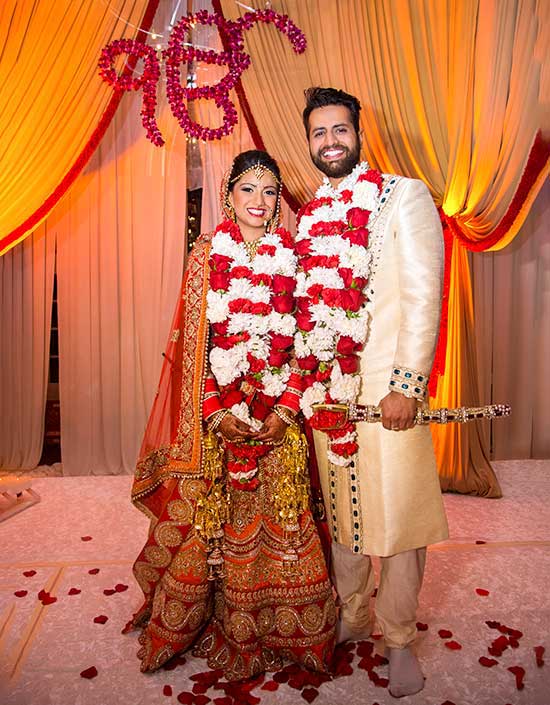 Colorful Punjabi Wedding Photography by Sikh Photographers
Anand Karaj- The Religious Sikh Marriage Ceremony

The blissful union of a bride and groom is Anand Karaj- the Sikh marriage ceremony. Let our photographers capture the scene how two kindred spirits tie a knot to live together for the rest of the life. As the tradition spans some days, we get a chance to snap photos of different rituals.

What makes Anand Karaj beautiful? It is a trail of mesmerizing pre-wedding rituals. With our wedding photography services, you will never lose the fascinating view of these events.

Anand Karaj comprises several rituals, and it starts with Roka. It is the ceremony of officially commencing the wedding event by offering sweets and gifts.

The second one is the Kurmai ceremony when our photographer pays attention to the groom's family. The way how the groom's mother puts a phulkari embroidered dupatta grabs our photographer's notice. It is a ceremony when the bride receives honor and love from her in-law's family.

The engagement ceremony of the Sikh couples starts with Sagan. We capture photos of gifts during our engagement photo session, like clothes, sweets, dry fruits, coconut, and jewelry. As we have learned about the Sikh heritage, it is easy to focus on the engagement formalities.

When our engagement photography session is over, we head to gurudwara with the couple. But, before celebrating Anand Karaj, some families host a kirtan. We engage our event videographers to record the Gurbani of religious musicians.

Anand Karaj is a ceremony with a serene atmosphere. While looking through our wedding photo albums, you will feel spiritual sanctity. Rely on our professional photographers for wedding photography packages.

Wedding flowers can slowly die…Wedding cakes get eaten…But, the wedding photos last forever.

Till now, we have received uncountable thanks and compliments for Punjabi engagement photo sessions and Sikh wedding photography. Our clients have described our team with these three words- Fantastic, patient, and talented.

We are generous with our time and can capture natural interactions. Moreover, prompt and professional Punjabi wedding photographers have won the heart of clients.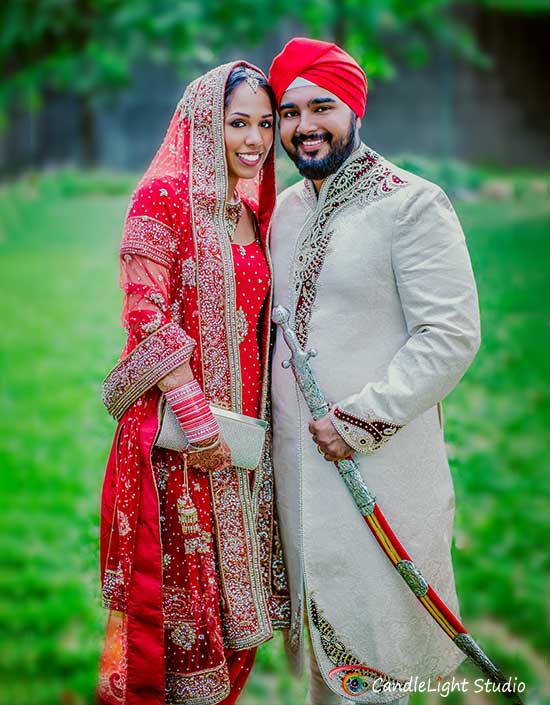 Punjabi Wedding Photography by Indian Photographers in NYC
Punjabi wedding photography- We photograph your lavish Sikh wedding ceremony

We believe that wedding creates a divine bond. Thus, our event photographers like to catch divine moments on your special day. We know that you look for the newlywed essence in your photograph. We incorporate that into our wedding albums. From Mehendi to Haldi Rasam and Vidaayi, we will be with you.

Our Punjabi wedding photographers do not like the rapid clicking of different moments. But we love the transparent and candid emotions of a Punjabi bride. Indeed, candidness is never everyone's cup of tea. Our event videography and photography professionals have learned it with effort. Call us for engagement photo sessions and wedding photoshoots. We will attend your Punjabi bridal party in New York City Hall.

Sikh and Punjabi weddings span several days. Still, it does not cost much to engage our wedding photographers. We also include our wedding videography services in our package. Our photographers will be with you till the end of the ceremony.

Our engagement photographers start working with you from the day of Sagai. This engagement formality starts one week before the actual wedding day. We will capture the rare moment when the groom puts the tikka mark on his forehead. Our photographers also attend your Mehndi party to track how the henna artists are beautifying the bride's feet and palms. Simultaneously, our wedding videography professionals will record the music turned on to create a vibrant atmosphere.

We know that Indian weddings are glorious events for brides and grooms from different cultures. The newlywed couples need to perform their rituals for several days. The gatherings of friends and relatives add charm to the environment. We know the intricacies of your wedding ceremonies, and that's why we can capture stunning photos. A lot of love and time goes into producing perfect Punjabi wedding photographs. Team up with us in New York and learn more about our bridal photography and Punjabi wedding videography services.

When you consult us for wedding photography services in NYC, we let you visualize the photoshoots. Our Punjabi photographers use high-end photography equipment to snap every photo. Thus, hire our team for wedding videos and pictures. We will incorporate different elements into your Punjabi wedding photography session.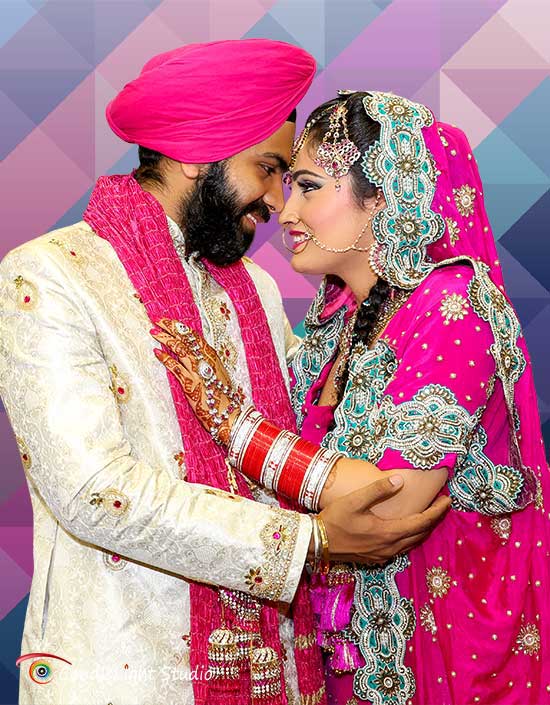 100 Best Priced Bridal Photos of Punjabi Wedding Photography
What our Punjabi clients say about their Punjabi wedding photography

You have impressed us with your skills in crafting a fairy tale love story on our wedding day. You have made me look like a Punjabi princess looking walking down the aisle.

Your participation has made our grand affair successful. You have perfectly blended Punjabi cultures in the picturesque details captured by your camera. When we have been looking through my wedding photo book and portraits, we have felt the warmth of love. Your consistency in the 4-day celebration is really audible.

On the first day, your NYC wedding videographers have captured the tunes of our Punjabi Dhol Tasha. The more scintillating thing is the way in which your photographers have meticulously captured the details of my shimmering black attire.

The second day was the day of fun and frolic. Interestingly, your advanced photography equipment has captured my energetic look. It was a poolside Mehendi ceremony, and you have captured the surrounding ambiance.

On the engagement day, when our hearts are gleaming with joy, you have done your best. The captivating and scenic view combined with the floral rose decors has transformed the look and feel of our wedding photography in New York City. You have engaged your team in the heart-warming celebration.

On the fourth day of wedding vows, we celebrated the Punjabi Chooda ceremony. It is an event of goodness and luck for the beginning of a nuptial life.

Our Indian wedding photographers captured the close-knit moments when our family members and friends were enjoying themselves together.

We provide you with highly elegant shoots that reveal emotion and love in your wedding ceremony.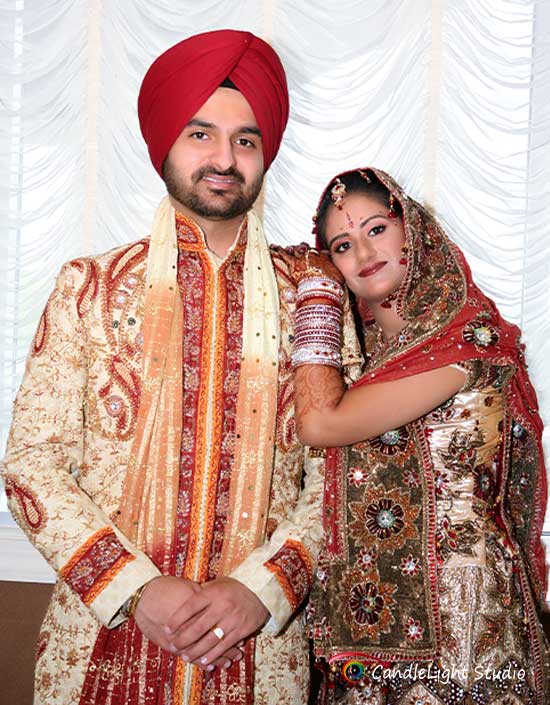 Professional Punjabi Wedding Photography by NYC Photographer
Benefits you can enjoy from hiring our Punjabi wedding videographer and photographer in New York, New Jersey, and Houston Texas

Be it a wedding reception party, destination weddings, or any other Punjabi wedding event, our Indian wedding photographers can be a part of your team. We aim to provide you with something that other event photographers cannot offer.

Our professional wedding videographers for your City Hall wedding are highly committed, honest, and artistic. We think that there would be no better investment than our NYC wedding photography.

Our wedding photography style does not constitute cliché gimmicks. We will fill your wedding photo books with authentic images, candid moments, and timeless poses.

Our Sikh wedding photographers are visual pioneers, while our Punjabi videographers are ground-breaking filmmakers. We present you with images that tell real stories and display real moments.

Our team has learned the way of creating unique photographic artwork. We take cinematic shots of couples and their families. We maintain the harmony of the beautiful elements needed for Punjabi wedding photography.

Our team is moving forward with a tried-and-tested photography style. We like to partner with clients who have a discerning eye to judge the value of our wedding photos.

Our pride is that our clients think this platform is their one-stop destination for Punjabi wedding photography. You can see our portfolio to check how we have captured the moments of laughing, hugging, crying, and kissing. At the destination weddings, we photograph the breathtaking views of the surroundings.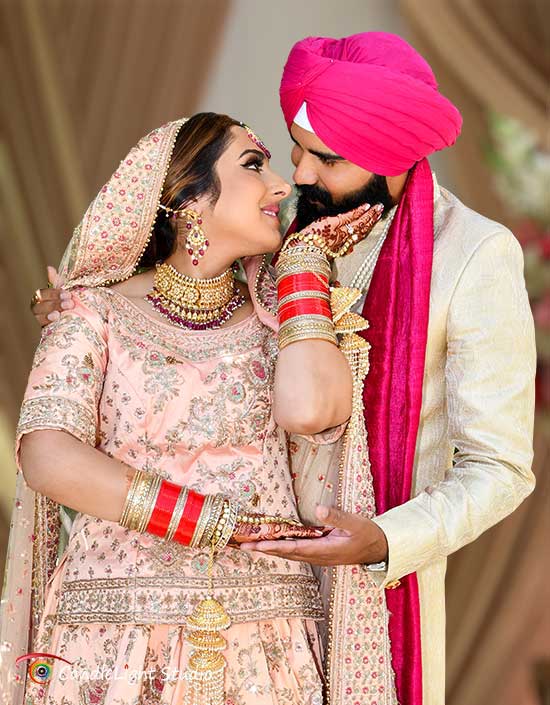 Best Photos of Anand Karaj Lavaan Punjabi Wedding Ceremony
But what truly makes us unique? Check the reasons before booking us.

Additional touches- Beautiful Punjabi wedding photography is your dream. Of course, our camera may capture minor flaws. However, our professional wedding videographers and photographers know the editing techniques to produce error-free photos. Before designing your wedding photo books, we go through the editing process.

Time dedicated for you- We do not like to set a limit on time limitations. Pay only our wedding photography prices. Never count the hourly rates and shots.

Fast Turnaround- We never let you wait for months to deliver your wedding photo books.

Multiple Photographers- While our lead photographer is busy photographing the bride and groom, our second photographer captures the chitchats of bridesmaids.

According to our clients' words, we are something more than an average wedding photographer. Every time you make a deal with our NYC City Punjabi wedding photographers, we grow our portfolio. Our clients' words in the past years have helped us to create a glorious history.

So, why are you waiting for a second thought? Call us for your local or destination wedding events. Let us make our DSLR cameras ready for your creative Punjabi wedding photography in NYC.

We are a top-notch team of Punjabi photographers with an eye for every detail. CandleLight Studio NYC photographers can overcome the challenges of photographing modern western and traditional Sikh and Punjabi weddings. We are available to travel to any part of New York, NY, New Jersey, NJ, and Houston, Texas.
Punjabi Wedding Photography by Photographer Surinder Singh
You Will Love These 50 Best Sikh Wedding Photography Poses
100 Stunning Lavan Photos by Famous Punjabi Photographer
What is a reasonable price for a wedding photographer?
Four hours of digital wedding photography costs anywhere between $1500 and $3000. Besides the wedding ceremony, the coverage includes the bridal party pictures, family group photos, wedding venue pictures, and everything in between.
What do wedding photography packages include?
We offer digital photography, high-definition videography, live streaming of the event, and drone coverage of baraat. Post-production includes album designing, video highlights reel, and professional video editing with title credits, special effects, and custom music.
How long have you been photographing Sikh weddings?
Surinder Singh is an expert photographer in shooting south asian weddings. He has a vast knowledge of all cultures and is highly skilled at capturing Punjabi and Sikh wedding moments. He has been capturing these precious moments for over 20 years.
How to hire the best Punjabi wedding photographers?
Are you searching for The Best Punjabi Wedding Photographers? Punjabi weddings are colorful events and start with the Roka ceremony. Now you can book a Punjabi wedding photographer online. Call us or send a request for a quote, and we will explain to you our value-priced packages.
What are the latest trends in Punjabi wedding photography?
We follow the latest trends in Punjabi wedding photography. We offer candid and posed shots, Pre-wedding photography, Photobooth, and Bridal Portraits. Live streaming, Drone photography, and cinematography is also available in custom packages.
About CandleLight Studio and Surinder Singh:
Candlelight Studio is a well-known photography studio based in New York City. Our lead photographer, Surinder Singh, was the one who started this amazing studio all the way back in the year 2000 to bring his dreams to life. And now, more than 20 years later, we are a diverse team of diverse photographers and videographers providing services in different US states.
Surinder Singh is a certified photographer by the American Wedding Group (AWG). He is the main photographer of Candlelight Studio with years of experience in capturing
weddings and events of diverse nationalities and religions. His specialty is South Asian Weddings like Pakistani, Bangladeshi, Indian, Guyanese, Nepali, Gujrati, and such.
A wedding is the most incredible and exciting part of everyone's life. There are different traditions and cultures at weddings in other regions. Everyone has their own emotions and attachments according to the culture of weddings and events.
It doesn't matter from which state or country you are. Hiring a professional Punjabi photographer is always the best option at Punjabi weddings. It will reduce your burden, help you make an exceptional memory, and only enjoy the wedding events.
Professional photographers and Punjabi videographers know their work and click photos and shoot videos on unique events according to light and weather by taking care of emotions and attachments with a wedding event.
We are a team of Punjabi photographers and videographers in New York, highly professionals offering affordable wedding videography prices. We passionate about creating memories for brides-to-be and soon-to-be couples. We cover all Punjabi wedding events, including Indian weddings, Bengali, Pakistani, Afghani, and modern Western church weddings.
We have already covered thousands of weddings, have an exceptional experience of 20+ years. We will love to join hands with you to make a remarkable memory of your wedding. Contact us and let our NYC Wedding Professionals team convert your wedding to an extraordinary, memorable memory under manageable wedding videography prices.
Punjabi Weddings by CandleLight Photography Studio NY NJ TX