Affordable Indian Wedding Photographers for Top 10 Benefits
Indian Wedding Photographers in NYC NJ offers Budget-Friendly Photography and Videography Services at Affordable Prices.
Indian Wedding Photographers in NYC 50 Best Candid Photos
"For highlight reels, for candid moments till our last click."
Capturing the sweetest moments, recording new life chapters since 2000. CandleLight Studio will make your wedding day last forever.
Professional Indian wedding photographers in NYC at Candlelight Photography Studio provide Budget-Friendly Digital photography and Cinematography services for Religious South Asian and also Modern Western Weddings.
Amazing Portraits by Indian Wedding Photographers in NYC
The Ultimate Guide to Traditional Indian Wedding Photography
Bridal portrait session and artistic wedding photography
"I do." An intimate exchange of vows of loving, protecting, and staying with each other "till death do us part."
This promise is like candlelight that transforms the atmosphere and creates that sense of importance and warmth into a wedding.

As Phoebe Cary said, "True love is never blind, but rather brings an added light."
NYC Cinematic style affordable wedding cinematography
But before this very beautiful union comes long weeks of planning. If you've ever been part of this industry or even just an audience, you know that planning can really be quite stressful. We've seen it in movies when couples decide who to invite or not, the venue, the cake, the food, the dress, and the list could go on and on. Sometimes this stress can make people exhausted and there are cases that relationships end up on a break.
Indian Wedding Photographers in NYC for Bridal Party Photos
Wedding planning, especially if you're planning for a big one, takes time and dedication. It also means that you need to let other people help you so that you don't stress yourself too much. But one important decision that you need to make early on is the stylistic direction that you want. It's a fundamental decision that can help you navigate the whole planning process with much more ease.
3 Best Video Highlights Reel by Indian Videographer of New York
Destination weddings and elopement package for your Big Day
4 Best Great Value Wedding Photography Packages and Prices
Best wedding photography prices and Hollywood-style editing
Choose the package that offers the most value for your special day, and we will send you a customized quote.
Date of your special day
Timings you would need our services
Locations of your events
4 Hours of Digital Photography

All High-Resolution Photos without watermarks, Delivered on USB Drive

USB Drives are Playable on Smart TVs, Computers, Laptops, Tablets, etc., with USB input

FREE UPLOAD of selected photos on the Internet

4 Hours of High Definition Videography

Unedited High Definition Video Footage delivered on USB Drive

USB Drives are Playable on Smart TVs, Computers, Laptops, Tablets, etc., with USB input

FREE UPLOAD of selected video clips on the Internet

4 Hours of Digital Photography and High Definition Videography

All High-Resolution Photos without watermarks, Delivered on USB Drive

Unedited High Definition Video Footage delivered on USB Drive

USB Drives are Playable on Smart TVs, Computers, Laptops, Tablets, etc., with USB input

FREE UPLOAD of selected photos on the Internet

4 Hours of Digital Photography and 4K Videography

1 Flush Mount Photo Album – size 12"x15" (25 Pages/50 Sides) with Plexiglas Cover

5 Minutes Video Highlights Reel

FULL Length Edited Video (Dynamic Titles, Special Effects, and Matching Songs), Delivered on USB Drive

All High-Resolution Photos without watermarks, Delivered on USB Drive

USB Drives are Playable on Smart TVs, Computers, Laptops, Tablets, etc., with USB input

Free Online Photo Gallery

FREE UPLOAD of selected photos and Video Highlights on the Internet
Perfect Indian wedding photographer Surinder Singh
What Do You Get When You Choose an Affordable Indian Wedding Photographer Surinder Singh?
NY Wedding Photographer and Videographer Surinder Singh have been photographing and videotaping precious moments of weddings and events of various nationalities and religious backgrounds for over 20 years.
The American Wedding Group has also recognized him as a culturally sensitive professional wedding photographer.
Surinder Singh values all religions and cultures. Whether it is a traditional South Asian Wedding or a modern Western Wedding, he uniquely captures the ceremony for generations to cherish.
CandleLight Studio, the Indian Wedding Photographers in NYC NJ, offers flexible budget packages for pre-wedding, engagement, and wedding photography in New York, New Jersey, and surrounding areas.
Book today and save 5% on your wedding photography package for local or destination weddings.
Traditional photographer for wedding photography coverage
FAQs: 7 most important questions about wedding photography
Everything you need to know about wedding photography: learn more about the art of capturing the sweetest moments of your special day.
Let's celebrate your life's grandest moment. Candlelight Studio's Indian wedding photographers in NYC specialize in South Asian Indian brides and grooms' unique needs. We understand your culture and add excitement to your celebrations.
We have covered a vast repertoire of weddings from American, Jewish, and Latino weddings to South Asian Indian, Guyanese, Pakistani, Bangladeshi, and a variety of others.
Thriving in an industry such as this for so long with thousands of clients in our gallery speaks of our dedication to the craft and the trust of the people who have come to us. We capture timeless and fascinating images that you will cherish for your lifetime.
We know what to expect throughout the wedding day. Rest assured, we won't miss anything! Contact us today to learn more about photographing your magical day while you are tying the knot.
Are you getting married? Or having some similar event that is coming up in the near future? And looking for professional photographers for your big day?
Thank you for stopping by, we assure you will not regret it.
About Us:
We are a team of Indian wedding photographers in NYC, who started their journey back in 2000. It was all started by Surinder Singh and is successfully going on as a result of efforts and teamwork. We provide wedding photography and videography services in New York and New Jersey areas.
We are proud to say that we have successfully covered over 1100 weddings and events and counting more. We create an informal atmosphere to capture the real feelings and emotions of the couple that they cherish forever.
We cover all types of Gujarati wedding events including pre-marriage celebrations, bridal showers, engagement ceremonies, and of course the main wedding events.
Candlelight photography studio offers wedding couples a vast number of options including bridal party photoshoot, portrait photo session, candid shots, Drone coverage, and posed photography portraits to choose from for their wedding memories.
When searching for your potential photographer, right here are some preliminary questions that you must ask yourself:
Does their artistic style align with mine? Or do I find anything I like in their featured photos that is worth the try to explore that option?
If they have standard pricing listed on their site or social media, is it within my budget range?
Are the reviews about them, good? And if there were bad ones, are those really bad or not?
Are they booked for the day of my wedding?
At the end of your research, it's good to narrow down your choices to at least 3-5 potential photographers.
So, Are you ready to preserve your memories forever?
Hire us today to make your special moments even more special!
Indian Wedding photographers New York
No unpleasant filters- No gimmicks- Find timeless images of pre-wedding photography.
To our wedding photographers, photography is classic art. We have taken much time to learn this skill. However, without the co-operation of our clients, we may not be successful. A wedding shoot will be successful when we combine your confidence and encouragement with our knowledge and skill.
We know that your wedding day is the most crucial event in your life. That's why you like to capture photos of that day. However, pre-wedding moments are also precious to the would-be brides and grooms. We can notice a strange curiosity in the eyes of the buddings. The wedding rings, the warm touch of two hands, and the kiss- everything is a part of our pre-wedding portraits. But, there are some more reasons for which we ask our clients to choose our pre-wedding and engagement photography.
Questions to ask Your Indian wedding photographers in NYC
What is a reasonable price for a photographer?
On average, freelance photographers charge between $1500 and $1800 for event photography.
What is included in wedding photography packages?
Most studios include digital jpg photos, event highlights reel with a newlyweds photo album.
Do you provide video coverage?
Yes, we do provide videography services. Our wedding films are memorable, surprising, and charming to viewers.
Do you photograph non-weddings events?
At Candlelight Studios, we cover a wide range of events, including; Weddings, Sweet 16 and coming-of-age Ceremonies, Graduation Parties, Birthdays, Pre-wedding and Engagement Parties, Receptions, Bar and Bat Mitzvahs, Stage performances, and more.
How many images do we get?
For a four-hour event, you will get between 400 to 600 digital pictures. All pictures are delivered on a USB drive.
So when do we see the pictures?
You will get a link to low-resolution images within a week from the event date. And all high-resolution images without watermarks on a USB flash drive within two weeks from the event date.
Can you change your style for our wedding?
CandleLight Studio is a New York-based wedding photography service that caters to a range of styles. But our strongest suit is bringing out the romance in the photos like it's a tangible feeling you can feel off of the picture.
Real Wedding Photos of South Asian weddings in NY and NJ
Top Video and Photos by Indian Wedding Photographers in NYC
Best Engagement Photos by NYC Indian Wedding Photographers
Why wedding photography is important?
Weddings are once in a lifetime experience. It is not just a couple commitment; it is the outcome of that much planning and preparation that all members of the family have done before. Despite all the plans you have made on hand, your big day will not get free from some inevitable chaos. But luckily when you have hire expert photographers and videographers, your day ends up with a lot of memorable moments captured that has a great emotional value for you.

You might be presented with so many options or referrals from your friends and family. With all the available options, where do you begin? We are a team of professional photographers in NYC who specialized in every type of photography and videography with highly flexible packages that can fit your budget. No matter it is a luxury wedding or a small, intimate by-the-beach affair, we will capture your precious moments in a way that they are preserved forever.
Destination Weddings by NYC Indian Wedding Photographers
How to choose photographers for Big Day!
You might have so many options to consider, but you have to choose the best one out of them. It's only possible when you consider everything related to your shoot including the coverage, the budget, and the team of photographers who will be there by your side during this most important day of your life.

A photographer is the best friend of the bride, so it should be someone who is able to capture all the emotional and happy moments of the bride without making it uncomfortable when tying the knot.

Candlelight studio's Indian wedding photographers in NYC are best known for capturing the moments that show real emotions, feelings that are unique to that wedding. Our whole associate team provides superior quality work by dividing our tasks in an efficient manner. And of course, there is a Signature shoot that is a special shoot done by our professional photographers.
25 Best Pictures by Indian Wedding Photographers in NYC
What makes us Unique?
The candlelight photography studio is unique among others in the sense that it not only captures your beautiful moments but also offers this all on a very affordable budget. There are flexible wedding photography packages available so you can choose the best fit for your budget.

We the team of New York City photographers provide you a range of options including detailed video of the whole event, bridegroom activities, other than that we also capture candid photos of relatives, family members, and the bridal party. We then combine them to make a cinematic highlight with matching songs. We are well known for our stand-still photography style. It is done to capture the stage activities, clicks of the family photos, and the couple pictures.

We also offer drone shots that cover the whole event from the top, in and out from different angles beautifully.
Virtual wedding photography and video packages and prices
Beautiful Bridal Portrait at Small Virtual Marriage Ceremony
Wedding rituals and ceremonies are one of the common parts of every culture. New York weddings create a bond between two persons who love each other and like to live together. Soon-to-be couples like the photography style used by Indian wedding photographers in NYC.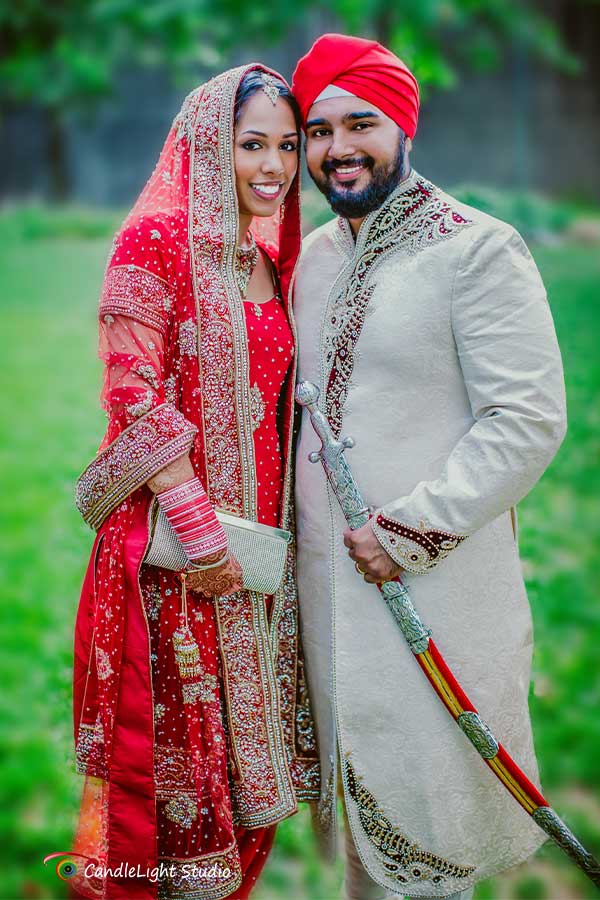 The latest fashion and wedding trends for the women with stylish minds pour countless hours to find suitable venues and reliable vendors for their big day. Wedding Photojournalist Association connects wedding professionals from around the world.
For virtual marriages, finding the best wedding photographers in the business listing directory of the famous New York magazine "the cut" is relatively easy.
Nothing can prevent the union of two souls. Then, why should the recent pandemic be the barrier to marriage ceremonies? Lots of restrictions and social distancing rules have introduced the trend of virtual weddings. We have already served several clients for virtual wedding photography services in Central Park and other gardens in New York City.
However, you may continue the virtual wedding trend when the world is free of COVID-19. In most cases, brides and grooms pour countless hours to find the right venues and reliable vendors. But, with a virtual marriage, you can save this effort. Hire our Indian photographers for photographing your virtual wedding with small gatherings.
We have the best set of videography equipment to stream your wedding ceremony. Your close relatives who do not attend your ceremony for travel restrictions can watch your virtual wedding video remotely. We use the most advanced virtual platforms that enable your guests to watch the wedding event from their digital devices.
Our professional standard gears will allow us to deliver the best digital content to our clients. Enjoy your virtual weddings and capture every moment of your special day. We specialize in beach weddings.
Capture birds-eye view beautiful videos with drones
As we are fearless photographers and videographers, we like to take the challenge of applying the latest videography trends. Our aerial cinematography with drones helps us in capturing footage at some elevated angles.
The little unmanned aerial device drone can add a wow factor to your videos. You will find a movie-style zest in your wedding videos. It may be a seaside wedding or a wedding in a rustic setting. Our drone-based videography will capture everything with its incredible technology.
Without raising the videography cost, we can offer drone filming solutions for your wedding party. We offer engagement, proposal, and wedding photography in Brooklyn, NY, and Videography for NYC Weddings.
Finding the right time for engagement and pre-wedding portraits with Indian wedding photographers in NYC?
Most of the young couples choose the day before their wedding day for the engagement photography. However, the weather condition and the natural backdrop's beauty will play a role in outdoor photography for the pre-wedding sessions.
We think that the best seasons for pre-wedding photography in New York City are:
After a long chilly winter season, we Indian wedding photographers in NYC welcome the lovely spring season. The winter season is brutal in New York, and you may not like the frigid weather. Spring is the season of Cherry Blossoms, and we find nature with a lush green dress. Thus, you can choose a site with full of colorful flowers and find the pre-wedding photos with an attractive background.
You may think constant sweating in the summer season may be a problem during photoshoot. However, when our clients choose the summer season, we Indian wedding photographers in NYC prefer the early morning for the pre-wedding photoshoot. It is the best way to escape the scorching heat. Parks and cobblestone streets have no crowd, and we click your photos at the right place.
We Indian wedding photographers in NYC always associate this season with romanticism. While focusing on the bride and groom, we capture the breathtaking beauty of nature. Moreover, the crispy air can make those couples more romantic. Find the iconic pre-wedding photos in the season of Fall.
We Indian wedding photographers in NYC present you with iconic images that reveal your love.
Love is the best gift you will get from your life partner. Our desires and passions drive us to capture that real love among couples. These unique qualities act as a force to keep us engrossed in the photography session. We have a mission of preserving important events, the environment, and the emotions of the Big Day.
Our Indian wedding photographers in NYC will let you visualize your wedding day in the way you have desired. With noteworthy imageries, we narrate your love story. However, to serve every client, we go through 3 simple steps.
We will converse and connect with you during our consultation session. You can share with us everything that you need for wedding photography. We Indian wedding photographers in NYC will inform you how we will preserve your precious moments.
Visualize the wedding photography
We are the most trusted Indian wedding photographers in NYC, and we can elevate the quality of your photos. When the consultation is over, we start envisaging the way we will work for you.
As we are a team of Indian wedding photographers in NYC, we assign tasks to every member. While some of them snap photos of brides and bridesmaids, others are busy photographing family members, relatives and other guests. It enables us to capture the picture-perfect moments on your wedding day.
We are not only photographers but also directors. We will direct you on how to take the right pose.
Videography for your Mehndi party by Indian wedding photographers in NYC
Do you like to showcase your elaborate Mehndi designs on your hands? Bridesmaids also participate in these Mehndi rituals, and we Indian wedding photographers in NYC think videography is the best option for these pre-wedding festivities. We incorporate the candid footage into your wedding video.
Videography for sangeet event by Indian wedding photographers in NYC
When the real party mood is created with the Sangeet, we Indian wedding photographers in NYC start preparing our videography equipment. The primary purpose of this celebration is to anticipate the real wedding party.
Our video will capture the performances of your friends and relatives. We will arrive at your venue at least 10 to 20 minutes before the beginning of the Sangeet and wedding events in Houston Texas.
Videography for Baraat by Indian wedding photographers in NYC
It is a fun-filled day enjoyed by grooms. In most Indian weddings, we Indian wedding photographers in NYC find grooms with a unique ride, and we will surely capture the scene. Friendly elephants adorned intricately, beautiful horses, and elegant Limos decorated with flowers- these are some common scenes.
Our cameras and videography systems will always be turned on to track the music and festive atmosphere. We Indian wedding photographers in NYC feel that we have become a part of the ceremony, like Baraat.
Brooklyn Botanic Garden Photography by Indian wedding photographers in NYC
This 52-acre garden has a large amount of space to accommodate 125 guests. Couples may arrange their wedding ceremonies at Cranford Rose Garden, Osborne Garden, and Pond Garden.
It is a green estate with historic structures, romantic gardens, and stunning views of New Jersey Palisades. You will feel best from the garden-side celebration. Moreover, this venue is easily accessible to guests coming from Connecticut and Westchester.
Historic Barns of Nipmoose
It is a highly restored barn with gorgeous wide-open surroundings. The courtyard, grove, pond, and overlooking farm fields are best for photoshoots.
The best destination to get married in NYC is the City Hall. There is a need to make your reservation, and you have to show some documents, like a credit card and government-issued photo ID. Although we are a team of Indian wedding photographers in NYC, we work closely with our clients. We can also become a witness to your wedding formalities.
We Indian wedding photographers in NYC can help you to find different other wedding venues in New York where you will find the real beauty of your photoshoot. Our professional background and knowledge about photography enable us to view everything from different perspectives. While the wedding venue is new to you, our destination South Asian wedding photographers will make you feel comfortable during the photo shoot.
Since the day we have started our wedding photography journey, we Indian wedding photographers in NYC have visited different venues in New York. While some couples have engaged us for a one-day celebration, others need photography services for weeklong events.
What Makes Us Distinguished Indian wedding photographers in NYC?
We have been immensely successful for the last two decades as the best Indian wedding photographers in NYC. Here's what makes us distinguished wedding photographers and the reasons why you should hire us for your D-day:
Elaborate Discussion and Planning by Indian wedding photographers in NYC
At Candlelight Studio, we Indian wedding photographers in NYC go through elaborate discussion and planning with our clients before the wedding day. We do not like to impose anything on our clients as every couple has a different vision and dream.
We Indian wedding photographers in NYC like to listen to whatever you have to say, giving you our valuable inputs coming from years of experience. Together, we can sort out a plan of action that takes you the closest to your dream wedding photography album.
We also go into consultation regarding the venue and the couple's photoshoots. Also, we do not wait for the event day to arrive with our photography equipment.
We Indian wedding photographers in NYC conduct a prior recce of the venue to understand the light requirements and develop innovative ideas for the best frames. Scouting the location helps us to bring out the best of the venue on the wedding day.
Candlelight photography by Indian wedding photographers in NYC
As a team of professional Indian wedding photographers in NYC, we love chasing lights. Lights can bring a magical transformation of an ordinary photo.
Natural light has its own beauty. Artificial lighting systems best for their adjustability. However, have you thought of capturing a candlelight photoshoot? A bride's look becomes more beautiful in the candlelight. We are versatile Indian wedding photographers in NYC skilled in candlelight photography in New York Studio.
As you come to our candlelight photography studio, we use our creativity and imagination to unleash your hidden beauty. The warm light from the candles replaces other light sources, including the camera flash. You can find an orange and red tone in your portrait.
However, the success in candlelight photography lies in the right placement of candles. As we Indian wedding photographers in NYC capture candlelight photos, you will find prominent colors in them. Moreover, we maintain the balance of whiteness and the saturation level of other colors.
Candlelight photography is more challenging than standard photography. However, we Indian wedding photographers in NYC know the best tricks to make this photo session more successful.
No camera shakes- We place our camera on some stable surface to avoid blurry photos.
No movement of the subject- When you move during our photography, you will find smudged photos. Thus, you must not move your body parts and avoid blinking your eyes.
Minimize flickering- Flickering is not 100% avoidable. Still, we try to reduce the flickering effects by preventing the blow of wind in the photographing spot.
We Indian wedding photographers in NYC know that lighting is a special art, and we have learned the basic candle positioning rules. Our photographers are conscious of how lighting angles create different effects and shades.
For instance, low-positioned candles to your face may result in scary effects. A candle at your height creates a softer and warmer effect. Multiple candles during the photoshoot help in eliminating unwanted shades.
Thus, hire our wedding photography professionals at Indian Bangladeshi wedding photographers in NYC and let us reveal your dazzling beauty in the candlelight photoshoot.
We engage multiple Indian wedding photographers in NYC for wedding ceremonies.
Why do we choose at least 2 photographers for your bridal party? While one of our Muslim photographers is busy with the groom's reaction, the other one will snap the bride's photo. Similarly, at your reception party, one photographer will shoot dancing and fun activities, another will take the group shots.
Moreover, by engaging multiple Indian wedding photographers in NYC, we can capture photos from different angles. The second shooter also acts as the helper of the major one. While one shooter manages the camera, the other one will deal with the props. Thus, the co-operation of 2 photographers ensures a big success to the photography session.
Solo wedding photographer- Is it the right choice for you?
In some cases, our clients like to hire only one photographer for their Church wedding ceremony in New York.
It is a perfect choice in some situations:
You have thought of eloping with your partner, and the wedding venue is very small.
You have invited less than 300 guests for a small wedding party.
You have chosen one location for everything- from wedding rituals to party.
Now, it's your decision how you want us to manage your photography session. Check out your photography needs and hire our Indian wedding photographers in NYC.
Destination wedding photography – Our Indian wedding photographers in NYC will travel for you
Does a traditional wedding in India make you feel bored? That's why you may have chosen NYC venues for a destination wedding. However, with gorgeous cinematography and photography, we Indian wedding photographers in NYC can now capture the picturesque beautify of New York. You can avail of our destination wedding photography at the most reasonable price.
But, why do you choose NYC for your destination wedding?
Small towns, enchanting landscape, stunning mountain ranges, vast fields, and epic forests- these are common scenes in New York. These elements are perfect for a romantic engagement. All couples desire a beautiful natural backdrop in their destination wedding photography. You can collaborate with Indian wedding photographers in NYC to find the perfect spot for your Afghani wedding and bridal photography.
Wedding Photography Packages by Indian wedding photographers in NYC – Pay less, get more
What will you get in our wedding photography packages? We Indian wedding photographers in NYC will amaze you with our packages and pricing. As all brides and grooms have different tastes and preferences, we also offer custom packages. Still, the most common things in our packages include
One to two photographers with their assistants
Digital files with low to high resolution
Pre-wedding photoshoots and engagement party shoots
A wedding photo book- price based on the number of images included.
Small albums for the parents
Post-wedding brunch coverage
Drone coverage
A special photo booth
Live Streaming
Our detail-oriented photography, innovative conceptualization, attention to creativity, and unmatched photography skills make us unique amidst state-of-the-art Indian wedding photographers in NYC.
While we cater to American couples seeking a modern and contemporary wedding album and a classy photoshoot, we also provide services to all Indian communities and extensively cover all the ceremonies. Whether you are having a grand Hindu wedding, a vibrant Sikh wedding or a regal Muslim wedding, we Indian wedding photographers in NYC can capture memories that would last you for a lifetime.
We also specialize in cinematic videography that documents your wedding diaries on screen, creating a movie out of your love story.
Every wedding ceremony is unique because of the different people involved, the different customs, traditions, colors, settings, smiles, a vivid range of emotions throughout the events. Therefore, we Indian wedding photographers in NYC and our camera crew gives in all their efforts not to miss a single moment.
We Indian wedding photographers in NYC understand the nuances associated with weddings in different communities and between people with different ethnic backgrounds. Whether it's a Punjabi bride dropping her kaleere on her bridesmaids, or a father bidding farewell to the daughter as a bride during the bidai, or the groom slipping the wedding ring at the altar into the bride's finger.
We Indian wedding photographers in NYC never miss any of these emotional moments. We take care to know and respect all these details, pay attention to them, capture the subtleties of these customs and rituals, and represent them in print to impress all our clientele.
It's an exhilarating experience each time for Indian wedding photographers in NYC as well to record the candid moments of the baraat, the decking up of the bride, the dances at the sangeet, and the pious pheras around the holy fire. These high-definition recorded clips go through hours of editing at the hands of our skilled videographers to create your wedding movie.
Moreover, we Indian wedding photographers in NYC do not just stop at providing you with sensational photography services for your wedding. We also help you embrace them to old age by providing you with timeless fine art wedding albums.
Bringing Out The Best In People
We Indian wedding photographers in NYC bring out the best in people by catching them candid during the joyous moments. We select the best angles and profiles to make them look good in photographs.
Our Indian wedding photographers in NYC have excellent observation skills to discern the best ways to shoot people at a wedding, concealing their imperfections and capturing their best selves.