We are a team of Professional Muslim Wedding Photographers specialized in Nikah Photography. We understand the differences in culture and religious values that are particular to Muslim Wedding Photography.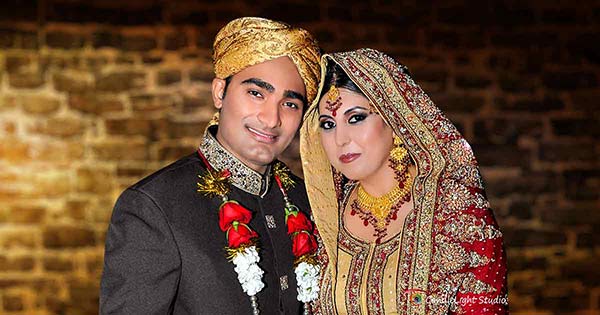 Whether you are having a luxury wedding or a small, intimate affair, we will capture your precious moments in a way that you can cherish for a lifetime. We offer highly flexible photography and videography packages that can fit your budget.
We specialize in not only photography but also Muslim wedding videography. We provide all types of video highlights that cover your wedding beautifully. We specialize in capturing the moments from different angles and edit them professionally to adjust minor things. We also add matching songs to the wedding highlights to give them more value.
Isn't that what you were looking for exactly? Hire us today and avail 5% special discount for your special day!
We offer all types of High-quality photography captured moment by moment during the event. Our packages include videography, family photoshoots, and Dulha, Dulhan portrait photoshoots. We Indian Photographers also suggest poses and beautiful parks that you would love.
100 Stunning Photos by Famous Muslim Wedding Photographers
We are flexible when it comes to the budget. We have starter packages from one day, two days, or multiple day's events. Candlelight studio photographers are ready to professionally shoot your special day, whether it is your Dholak, Mehndi, Barat, or Walima ceremony.
4 Attractive Photo Packages for Muslim Wedding Photography
Candlelight studio team of Indian wedding photographers also specialize in capturing Candid photos that involve various effects and songs that we add while editing video. Additionally, we also offer drone coverage and Live Streaming of the event and our most special signature shoot.
We have been capturing the beautiful moments of the bride and the groom for more than 20 years. We started capturing photos and videos in the year 2000. Gradually it became our passion. Now we are among the best Muslim wedding photographers in the New York and New Jersey areas. You will get value for the price, so hire us to experience the best photography and videography on your wedding.
The stunning Muslim wedding ceremony and soulful Valima celebration strengthen your faith, triggering celebrations that embark you on a brand-new journey. The CandleLight photography studio will make the special day of your life the very best day of your life.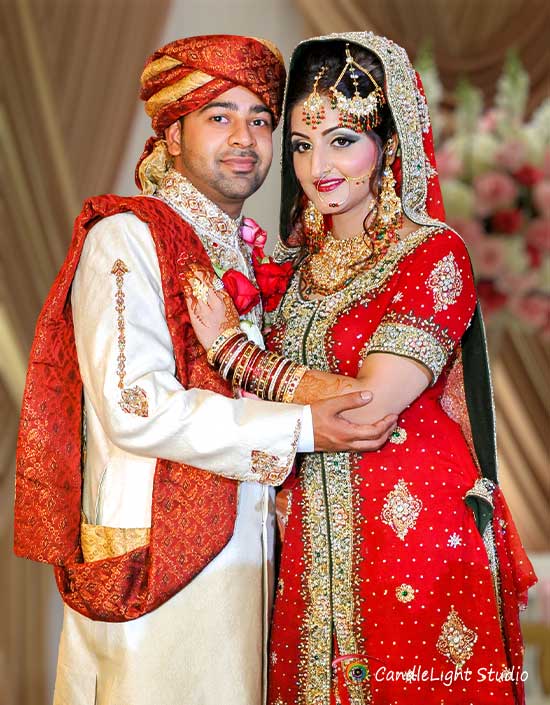 Colorful and Joyous Pakistani Weddings
Best Nikah Video Highlights Reel by Muslim Wedding Photographers Near Me in NYC and NJ
Best Priced Muslim Wedding Photography Videography Packages
4 Best Selling Muslim Wedding Photography Packages at 5% OFF
Hollywood-Style Video Editing of Elegant Muslim Wedding
Pre-wedding Events like Mehndi, Shaadi (Baraat), Nikkah, and Walima Pictures
Bridal Party Digital Photography
Cinematic Wedding Video
Coffee Table Photo Book
Drone Photography and Video Coverage
Live Streaming of Your Events
4 Hours of Digital Photography

All High-Resolution Photos without watermarks, Delivered on USB Drive

USB Drives are Playable on Smart TVs, Computers, Laptops, Tablets, etc., with USB input

FREE UPLOAD of selected photos on the Internet

4 Hours of High Definition Videography

Unedited High Definition Video Footage delivered on USB Drive

USB Drives are Playable on Smart TVs, Computers, Laptops, Tablets, etc., with USB input

FREE UPLOAD of selected video clips on the Internet

4 Hours of Digital Photography and High Definition Videography

All High-Resolution Photos without watermarks, Delivered on USB Drive

Unedited High Definition Video Footage delivered on USB Drive

USB Drives are Playable on Smart TVs, Computers, Laptops, Tablets, etc., with USB input

FREE UPLOAD of selected photos on the Internet

4 Hours of Digital Photography and 4K Videography

1 Flush Mount Photo Album – size 12"x15" (25 Pages/50 Sides) with Plexiglas Cover

5 Minutes Video Highlights Reel

FULL Length Edited Video (Dynamic Titles, Special Effects, and Matching Songs), Delivered on USB Drive

All High-Resolution Photos without watermarks, Delivered on USB Drive

USB Drives are Playable on Smart TVs, Computers, Laptops, Tablets, etc., with USB input

Free Online Photo Gallery

FREE UPLOAD of selected photos and Video Highlights on the Internet
Affordable Muslim Wedding Photographers For Best Photography
You Will Love These 50 Best Muslim Wedding Photography Poses
Are you having Nikah soon? Or Mehndi dholak function coming? Do not get distracted. Hire Professional NY Wedding Photographers to capture your sweet special moments!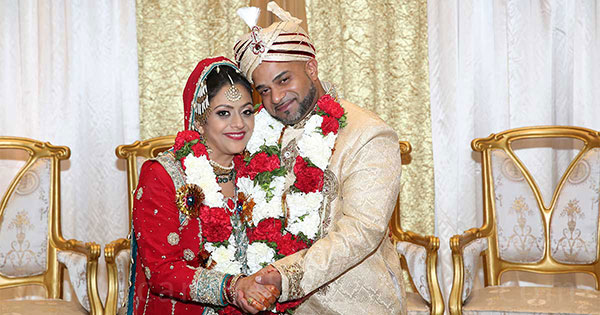 About Surinder Singh| Professional Wedding Photographer NY:
Surinder Singh is a diverse man who has a vast knowledge of all cultures and is highly skilled at capturing dazzling wedding moments of Muslim religion and Pakistani culture in NYC and NJ areas.
He has been capturing these precious moments for over 20 years. Surinder values all religions and traditional values to capture every Muslim wedding ceremony in a unique way. He has also been recognized by the American Wedding Group and has been carrying it so well.
Surinder Singh has experience of over 1000 weddings that he has covered so far. He and his highly professional teamwork passionately deliver the best quality photos, videos, and Drone shots captured on your big day. He builds trust in his customers by offering them flexible budget packages for the wedding and pre-wedding events in New York and surrounding areas.
Let us embellish your Mehndi and Dholak events! |Muslim Wedding Photography New York:
A wedding brings a lot of celebrations and happy moments that you spend with your loved ones. Before the main event days, Pakistanis began their celebrations before. Dholak and Mehndi events are among those enjoyable events that everyone remembers more than the other events. Because these events are usually celebrated by the bride's friends and family cousins. This is the time when the bride actually enjoys her wedding. She puts on mehndi and her friends sing and dance to make those precious days, even more, cherishable.
Muslim weddings are celebrated according to the Islamic wedding traditions that are very unique and special in their own way. Other than that Pakistan has its own traditions and customs that are considered and followed during the wedding days.
How is it about spending those special days without capturing any memory? I am sure you will never want it to pass like that! So why you are not booking your special pre-wedding days beforehand?
Premium Packages offered by Wedding photographers NY:
We also offer premium packages that include both the photos and video options by a Muslim wedding photographer. We deliver unedited High end 4K video highlights of your wedding event captured during the 4 hours of your celebrations. Our golden package includes high-resolution photos and 4K quality video highlights of your Nikah and marriage ceremony.
We also add various effects and music to make it more valuable. You will also get a free online gallery along with this golden package of photography and Muslim wedding videography.
Be sure that the pictures are High-quality and can be used in photo albums easily. You can also display your wedding photo session against your room's walls. Moreover, your favorite wedding portrait photos will also be displayed on our website.
100 Stunning Nikah Photos by The Famous Muslim Photographers
What is a good price for wedding photography?
The price range for wedding photographers can vary heavily. Best photographer range between $1500 and $3000 for wedding photography.
What is included in wedding photography packages?
Besides photography and videography, some photographers include drone coverage and Live streaming of the events.
What advantages can an Indian wedding videographer bring to your ceremony?
Indian photographers and videographers are specialized in Nikah Photography. They understand the differences in culture and religious values that are particular to Muslim Wedding Photography.
What kind of wedding photography style do you use?
Every couple has different style preferences. We work within our creativity and balance it out with the client's vision.
How many photos should you get from a wedding photographer?
You can expect to get between 400 and 600 photos from a professional photographer of your wedding coverage.
Best Muslim Wedding Photography by Expert Photographers
5% OFF The Best Photos Package of Muslim Wedding Photography
100 Stunning Bridal Photos by The Famous Muslim Photographers
Let us capture the Emotional Moments of your Barat day| Muslim wedding photographers NY:

Barat is an important event in the series of events of Muslim wedding ceremonies. It is hosted by the bride's side and all the relatives and friends join them at some marriage hall or open garden. All family members wait for the groom and his family to arrive. They are given priority and are welcomed by the flowers. This is the time when everyone is emotional as well as excited because the bride goes with the groom after performing some traditional customs.

You definitely need a good photographer to shoot all this for you because this is never going to happen again in your life, you can relive these moments only if you have video and highlights of the event with you.

Here comes the importance of professional Muslim wedding photographers who can be your best friend and can capture each and every natural moment from a great angle. New York Muslim wedding photographers are the best photographers in the town. We capture your whole celebration and event in a way that allows you to relive the beautiful moments again and again in your life.

Rukhsati is the main part of the Barat event shoot because everyone gets emotional that time, it is not something against nature. Obviously, when you are leaving the home you have lived in for years and years, you get emotional. Everyone hugs you and it is time to say goodbye to your parents and siblings.

We value your emotions and sentiments of that time, so we take it as the most special shoot without missing any moment. We capture every smile, every natural tear in an amazing way. Those highlights and the last-moment hugs will definitely refresh all those moments in your mind again.

In addition to that, we have designed various packages to make it easy for you to select the package according to your need. All packages are flexible and are done professionally by our great team of skilled photographers, so do not worry about the quality of the photos and videos.
Muslim Wedding Photography The 100 Best Value Priced Photos
Nikah Photography | Muslim Wedding photographers NY

Nikah is one of the most important elements of the wedding. Nikah completes the purpose of the wedding celebrations. It is a religious agreement that both bride and the groom sign and start the new chapter of their lives together.

A date is fixed after the negotiation between the two families. Nikah is guided by Islamic laws so everything goes in accordance with the Holy Book Quran. The bride speaks to the Imam of the Mosque about the Maher (a gift, in the form of money, the bride receives at the time of Nikah from the groom). The bride and groom perform a prayer to Allah for guidance together.

Nikah is carried out by Qazi of the mosque and is signed by both the Dulha and the Dulhan. It is the most important moment of your life. As you are signing papers with the person you want to spend the rest of your life with. Brides usually get emotional during all this and become the perfect time to capture the very real and emotional moment of your life.

Dulha and Dulhan do not sit together on stage unless the Nikah has been carried out. When Nikah and Dua are made, Dulha and Dulhan are seated together on stage. These all-ongoing moments with real tears and laughs are the perfect moments to engage a professional photographer in Muslim wedding photography and videography.

As Nikah is the main element of any Islamic wedding, so is Nikah photography. Because these are some special memories that you remember for the rest of your life.

We film the whole event in a professional and skilled way as we have a team of photographers who specialize in different skills. Along with the photos, we as the Muslim videographers shoot the whole Nikah event in a way that reflects Islamic traditions and values.

Our precious couples thank us later as we provide the best quality photos and videos with the free upload of your favorite ones on our website and social media platforms for free.
100 Stunning Photos by The Famous Muslim Wedding Photographers
Questions that you may ask your Muslim Wedding Photographers before making the final decision:

First, you must ask the photographer about their past experiences. Yes, because reviews make a lot of differences. When some photography team has strong and positive reviews it means they have a good background in capturing weddings and this makes you trust them more.

Secondly, you may ask about their expertise and specialties that make them stand out from the crowd. This will really help you get an idea of whether they would be able to meet your expectations or not.

Having great skills and a creative mind give some photographers an edge over others. So, this is an important point that helps people choosing a good photographer for their Wedding events.

Other than that, you may have a look at their previous shoots to get a better idea of their style of photography that definitely says a lot about them. Have a look at their portfolio to make a better decision for your wedding photography.

How well the photographers know about the cultural values and traditions of that particular religion. Photographers with diverse experience of wedding photoshoots are the best ones because this is not what every photographer team possesses. Documenting a traditional wedding requires more detailed insight into the photoshoot.

If they have covered 1 to 5 weddings, it means they are the beginner ones. If they have 6-10 weddings experience, they are more like assistant photographers. If the photography team has covered around 30 weddings, it means they are experienced photographers. And most probably they would have covered all cultural and traditional weddings during their experience.

If all these questions are answered positively, you should consider the budget packages that they offer for their photography and videography shoots. If those fit your requirements and range, you should not delay making decisions in their favor.
Wedding photography of various nationalities and religions