NYC Indian Wedding Photographer for Best Photos and Prices
Indian Wedding Photographer for Virtual Small Marriage Ceremony in NYC offers Special Prices to Photograph Micro weddings.
Indian Wedding Photographer NY for Your Precious Memories
Best Wedding Photography and Videography at Affordable Price
For better rates, please provide your Event Dates, Locations, and Timings!
About CandleLight Studio Indian Wedding Photographer NYC NJ
Affordable Wedding Photography | Best Indian Photographer NY
5% OFF offered by Indian Wedding Photographer NYC on Wedding and Engagement Photography and Videography Packages with Video Highlights Reel of Full Day Wedding.
Our wedding photography package mainly includes service like
High-resolution digital photography
Drone photography
Cinematic 4K Videography
live stream your wedding to anyone, anywhere in the world
Flush mount photo album
5 minutes Video highlights of the Full day Wedding
Edited videos with smooth transitions, titles, and matching songs
Photos and videos stored in USB drives
Free upload of your favorite pictures and video Highlights on the internet
Factors important to our wedding photographers
Although our photography style is the most relevant factor, we focus on other aspects of your bridal day.
Some of our clients ask- Do you shoot family photos on a wedding day? A wedding is not just a union of two souls. It unites two families with a social bond. As your family members celebrate your wedding party, they should be a part of our photography. We like to devote attention and time to your family members. You can find their emotions manifested in photos taken at Houston Weddings.
Some brides and grooms become stiff when they come in front of our camera. Still, you may need to follow our directions to create comfortable and natural poses. When you are in a natural pose, we can capture your personality with our camera. Some young brides like to take their own preferred poses, and we provide them with a few tips to correct any improper pose.
You may be engaged in playful, fun, and silly activities with your pals. Although those scenes are ridiculous, you are in your comfort zone. That is why we choose these moments to capture photos. Your smiles will look more beautiful in these pre-wedding and engagement photos.
You have invested a big amount in decorating your wedding venue. We never overlook floral arrangements, candy bars, and centerpieces. Our cool shots will deliver gorgeous pictures.
Best NYC photographers for couples from any religion
We do not just snap photos. We are a team of professional photographers. We have served clients with different cultural backgrounds, and they have diverse wedding customs. Although we may not know about your wedding rituals and customs, we can capture every detail. Moreover, our photos will reflect the authenticity and genuineness of your love.
Your wedding day will be full of color, and our photos will never be colorless. We have learned the technique of interracial, multicultural, and interfaith couples. Indian Wedding Photographer Brooklyn, NY.
While some brides choose grooms of their community, others prefer partners from a different community. However, this fact does not affect our photo quality. As we have served lots of clients, we have found clients with different flavors. Caste and religion can never interfere with our photo shoot. When you are in NYC, you can hire our Indian wedding photographer in Long Island New York.
Wedding photography frequently asked consultancy questions
How much is an Indian wedding photographer in nyc?
The price of Indian wedding photographer in NYC ranges between $1500 and $3000. CandleLight Studio offer live streaming of wedding videos with multiple camera angles on YouTube and Facebook.
Who are the best new york wedding photographers?
The candleLight photography studio is an award-winning wedding photography and videography company specializing in south Asian and modern western weddings in New York, New Jersey, and their surrounding areas.
What makes us different from other top new york wedding photographers?
The candlelight photography studio has been photographing and videotaping precious moments of weddings and events of various nationalities and religious backgrounds for over 20 years. We have served more than 1100 clients, including traditional south Asian weddings, modern western weddings, City Hall weddings, and destination weddings.
Do you include live streaming in wedding photography packages?
Virtual weddings are becoming a trend. Candlelight photography studio offers live streaming of virtual weddings with multiple camera angles. Live wedding stream allows virtual guests worldwide a complete view of your wedding as if they were there.
Do you shoot family photos during a wedding day?
Family Portraits are one of the crucial parts of our wedding photography package. We never overlook family portraits when our clients hire us. These family photos are highly treasured mementos in your photo book. While keeping our wedding photography package price reasonable, we include the best shots.
Hollywood-Style Editing Highlight Reels of Event Videography
We are very careful in weaving these lifetime moments to create your wedding tale. As you are going to tie the knot with your dream man, you can rely on Indian wedding photographer and Videographer in New York and New Jersey.
Awesome photography by Indian Wedding Photographer NY
Local Photographers New York | Budget-Friendly Photography
About CandleLight Studio Indian Wedding Photographer NYC NJ
Candlelight studio is one of the top wedding photographers and videographers offering their services in New York and New Jersey. Started by Surinder Singh in the early 2000s, the company has now come a long way.

At candlelight studio, we have been offering our services for 20 years, and we have covered over 1100 successful events capturing precious tears, love, and joy-filled moments for couples at their weddings.

Our expert team of photographers who cover weddings in New York and New Jersey are members of professional photographers Of America (PPA) and are also associated with the wedding event, WPPI, portrait photographers, and videographers international. In addition to all of this, we are proud to say that our photographers are certified by the American Wedding Group.
Indian Photographer NY | Affordable Wedding Photography
What gives us an edge over all the wedding photographers and videographers in New York? Well, that's a valid question. We not only cover western weddings, but we are experts in covering weddings and festivities of couples belonging to different religions and ethnicities, and that too on a budget.

When we pick up our camera, we tell the story of you. At candlelight studio, we understand that it is not about the blinding lights and big production and more about you and what your relationship is and how you make each other feel.

This is what our photographers and videographers aspire to capture on your wedding day and give them back to you in the form of pictures and videos so you can cherish them forever.
Local Photographers New York | Budget-Friendly Photography
From the second your inquiry hits our inbox to the moment you press play on the slideshow of your wedding photos and videos, you are all taken care of.
As a wedding photographer and videographer based in New York and New Jersey, we specialize in capturing South Asian and western weddings and aspire to deliver the essence of these joy-filled moments.

At candlelight studio, our world-class editing complements your precious moments, so every image reflects the feelings associated with it. We hand edit every photo and video, so the final product you receive reflects the feel, mood, and vibe of the moment.

We have photographed over 1100 weddings, documenting the connections of couples belonging to different ethnicities and religions across New York and New Jersey.
Wedding photography of various nationalities and religions
At candlelight studio, we specialize in Punjabi wedding photography and videography. We tailor our photo-video packages to provide you with the most affordable packages based on the events needed to be covered.
Pakistani Weddings have an extended guest list due to a large number of family relatives. Our extensive team of professional photographers makes sure that we capture memorable moments of everyone present at your event.
With our timeless photography skills, we will capture the true essence of those pure emotions of Guyanese weddings when you exchange rings and promise to be with each other for the rest of your lives.
South Indian weddings are a celebration of the customs and traditions of two families, and we aspire to capture the beauty of this special celebration.
We provide you with high-resolution images to share with friends and family who could not be there at your Gujarati wedding ceremony.
Our photographers aspire to capture your Bangladeshi wedding photos and videos so you can cherish them forever.
We are experts in covering Muslim Nikah and Walima photos and videos. We have also covered Afghani weddings, and that too on a budget.
Roman Catholic Church with magnificent architecture can prove to be a good background for your Church wedding photos.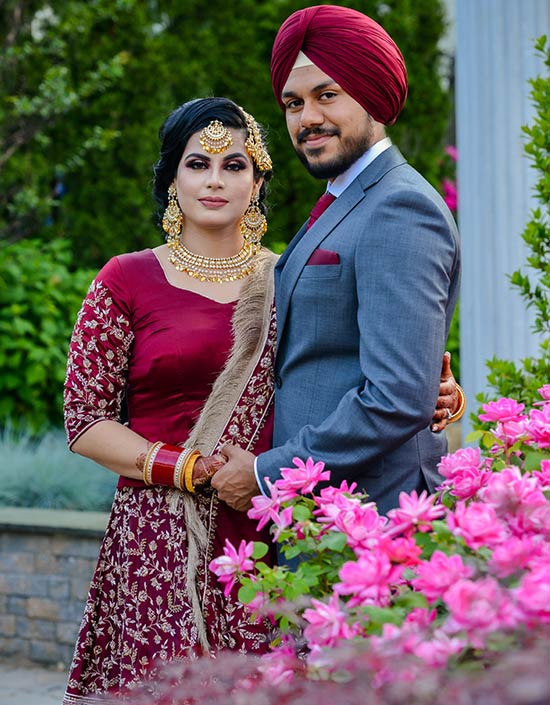 Lifetime wedding memories by Indian wedding photographer NY
Indian Wedding Photographer NY for The Best Wedding Photos
The 9 essential digital photography equipment for a wedding photographer.
One of the most popular cameras among wedding photographers is the Canon EOS 5D Mark IV. Excellent in low-light performance with high-quality images.
We use Nikkor lenses for photographing portraits, weddings, and events. Whether you are shooting candidly or setting up pictures, Nikon gives excellent results even in a challenging light.
Our post-production choice of software is the Adobe master collection graphics suite. We use premiere pro for non-linear editing of 4k videos.
Wedding and event photography has ended up being an exceptionally preferred as well as financially rewarding specialty. Being a professional wedding photographer needs commitment and also skills.
Also, having the appropriate devices is essential if you expect to accomplish sharp, well-composed, well-lit photos. We buy our photography equipment at the B&H superstore located in New York City.
Drone aerial videography and photography have gained popularity in wedding ceremonies. We now offer drone video footage along with conventional video footage. We provide higher-quality photos and videos shot by DJI Phantom from the sky. Newlyweds love this fantastic means of capturing the day.
With great power comes excellent efficiency. Apple hardware, software, and solutions work together to supply a seamless experience that just works. You can begin a project on Mac and finish it on iPad. It's all compatible with applications from Microsoft and Google, so your group has whatever it requires to get any work done.
Almost every person will undoubtedly agree that picture albums are treasures in your home. These are heirlooms from one generation to the various other, leaving behind a heritage of memories accumulated throughout life. When you consider them chronologically, it resembles pushing the rewind switch and belonging to those minutes once more. Epson has made it possible to print these pictures and bind them into photo albums.
The Boris FX Suite is the complete library of Boris FX award-winning visual effects for wedding videos. The Boris FX Suite includes the Sapphire plugin and Continuum plugin for creating high-end visual effects.
Wedding Bug has many years of experience producing wedding photography and video that every couple can preserve their most precious wedding day moments. Wedding Bug has been voted "Best of Weddings" by The Knot brides.